Motorcychologist
Top Contributor
Messages

3,118
Reaction score

3,196
Points

263
Location
Please tell me what you think of this idea.
For a long time I have been extremely unhappy with all of the spray-on chain lubes. They are messy and inefficient. Why use a high-pressure spray with very little control when the only part of the chain that needs to be lubricated is the ends of the rollers?
In the UK there are alternatives to spray-on lube. One is chain paste. It comes with a brush in the cap. In the US you can get it on eBay but it is expensive for a small quantity.

Here's another, again, based in the UK, available in the US on eBay, and very expensive.
One more, again, UK based, unavailable in the U.S. without really trying.
So what do you do if you live in the U.S. and you think that the spray-on lubes, which are the only thing available, are purposefully wasteful, aside from being a mess, and you refuse to be a part of this paradign any longer?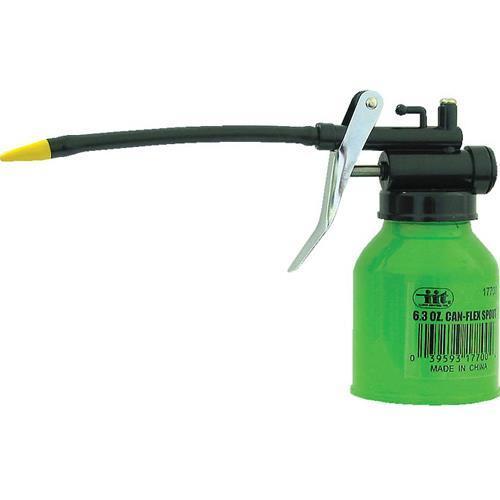 Well, I bought this, from this seller:
http://www.ebay.com/itm/REFILLABLE-...450?pt=LH_DefaultDomain_0&hash=item3cec979b62
And then I filled it with this from Walmart at $4 a quart. I chose bar oil because it is supposed to resist flinging off of the chain.
I oiled a chain, putting exactly one drop on each side of each roller, right where the plates meet. The oil can allowed very precise drop-by-drop application. I weighed the filled oil can before and after oiling the chain, and I used 7.3 grams of oil. I did the math. Assuming that motor oil weighs 7 pounds per gallon, I can oil a motorcycle chain 435 times with my quart of bar oil. If I did it twice a month, the quart would last me 18 years. The cost of the oil used per oiling is less than one cent.
But it's not really about the cost so much as it is about being cleaner and more efficient.
A couple of afterthoughts: The chain I oiled was on a 1978 XT500, which is an enduro and which has a chain tensioner. I noticed that the tensioner was wiping the excess oil off of the chain as it slid on it -- a considerable amount of the 7.3 grams that I used ended up on the floor underneath the tensioner. So, when I do this to my XS650 I am going to wipe down the chain after I finish.
I also think that a wax type lube would be worth trying, but the only non spray-on ones available in the U.S. that I know of are bicycle chain lubes, such as those above. I considered just trying one instead of buying the oil can, but I wanted to see how bar oil worked as a motorcycle chain oil.
So, there you have it.
Last edited: