Messages

2,193
Reaction score

92
Points

48
Location
Alright gang, I've been working on these for a while, and after all the requests and emails, I'm finally getting time to get this How - To up for us
If you are only planning to rebuild your forks, disregard all the stuff about the lowering spacers and cutting the springs.
Lower those XS650 Forks! (This is for 35MM Forks only, 34MM Forks are very similar, and can be disassembled the same way... Check my blog for more information on 34MM Lowering kits as well)
You'll need the following tools:
8MM Deep Reach Allen Socket (Make one yourself on the cheap, just cut an old allen wrench)
17MM Fork Cap Tool (Grab an old 17MM Headed Bolt, weld it into a socket on the cheap!!)
2MM Allen Wrench
Modified 17MM Socket (Early forks only - See Below)
LONG 3/8" Extension or a pile of short ones
3/8" Ratchet, breaker bars, etc...
Impact Gun (Not necessary, but might save you some work)
You'll need the spacers as well: I've been trying like crazy to find a suitable way to lower these forks AND keep the valving ports operating, and these are what I have finally come up with. Fully Lathe Machined 6061 Aluminum, with Valving Ports and a Set Screw to keep them in place
I can make these for you in ANY drop from .5"-3"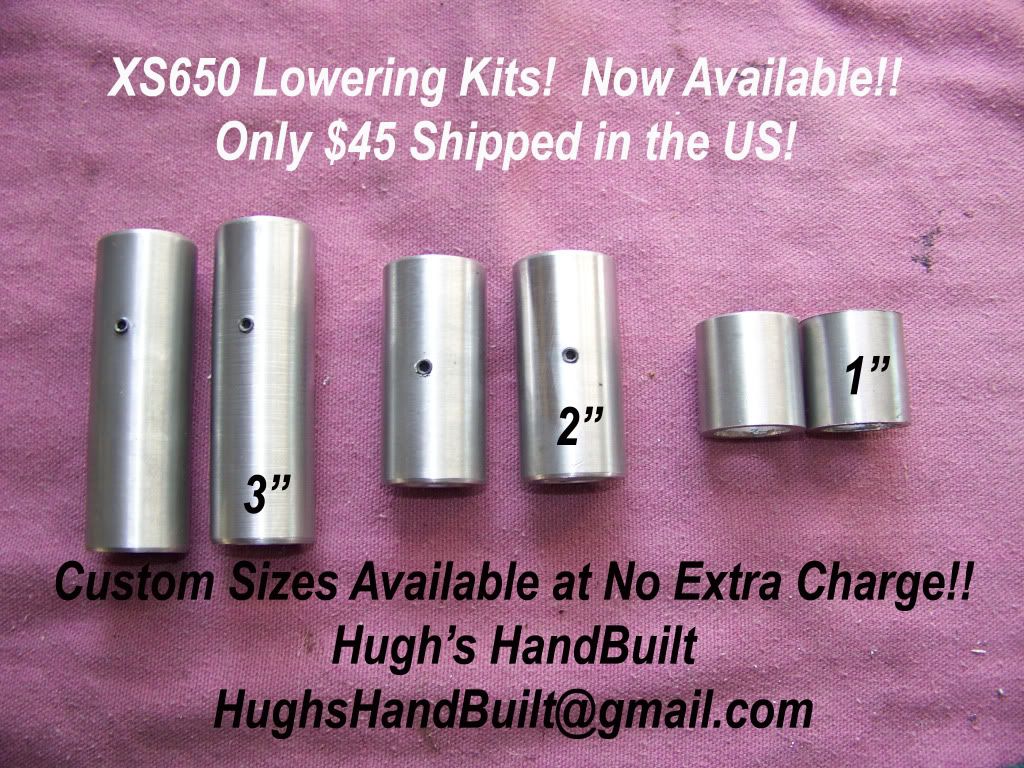 You can find these parts and more on my Blog -
http://hughshandbuilt.blogspot.com/
OK, let's get started - (Once you have the forks removed from the trees, I'm not gonna show how to loosen up 3 Bolts and Remove a wheel, this is easy stuff)
There are 2 types of 35MM XS650 Forks, Early and Late style. Here is a quick glance at how to tell the difference. The internals will be different as well, but I will cover modding both types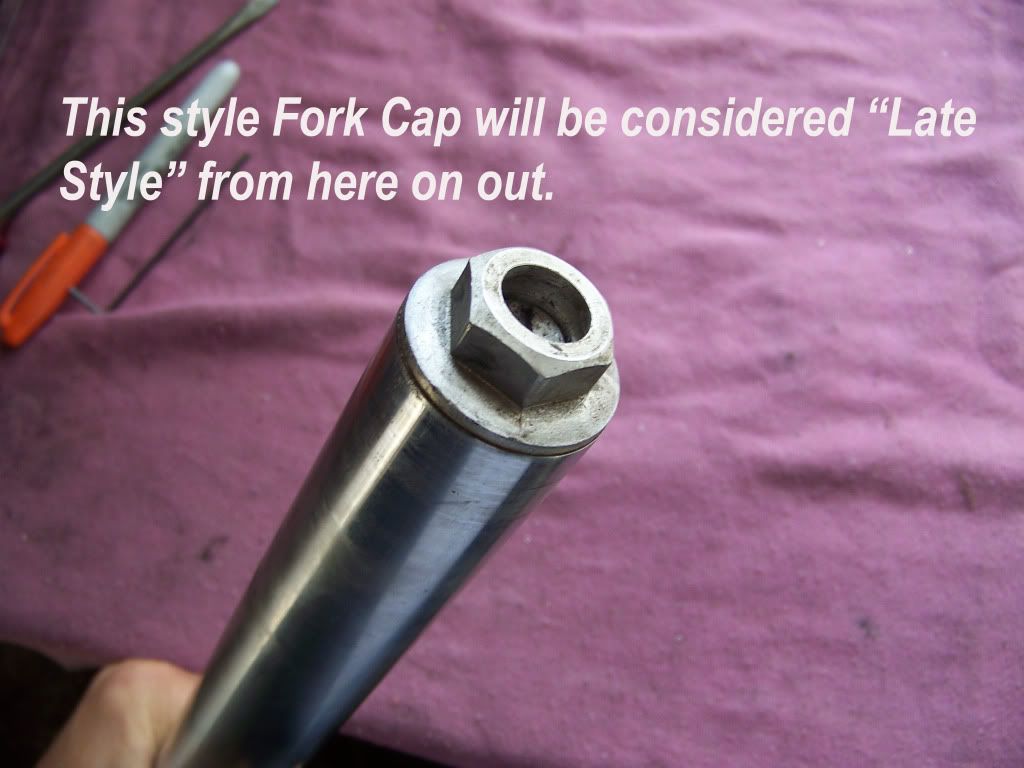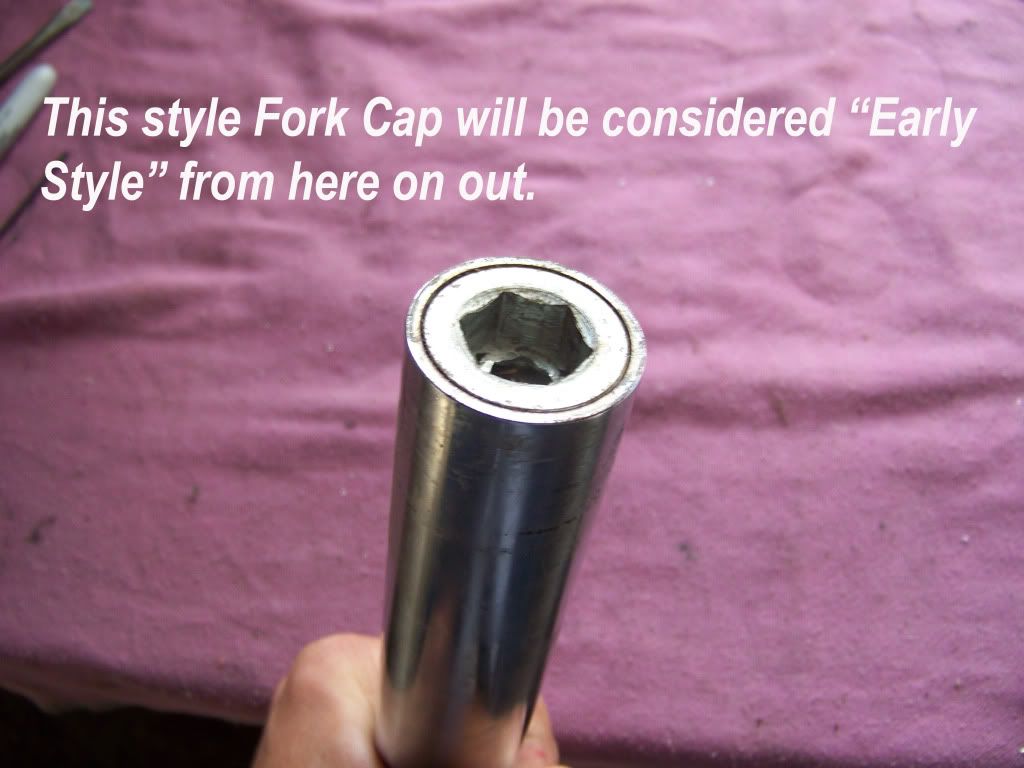 I'll start with the "Late Style" forks and add the information for the Early Style a little further on.
If you get REALLY Lucky, you can remove the lower from the upper just by using an impact gun and the deep allen on the bolt in the lower leg.
(Homemade Tool Mentioned Above)
The Lower Leg Bolt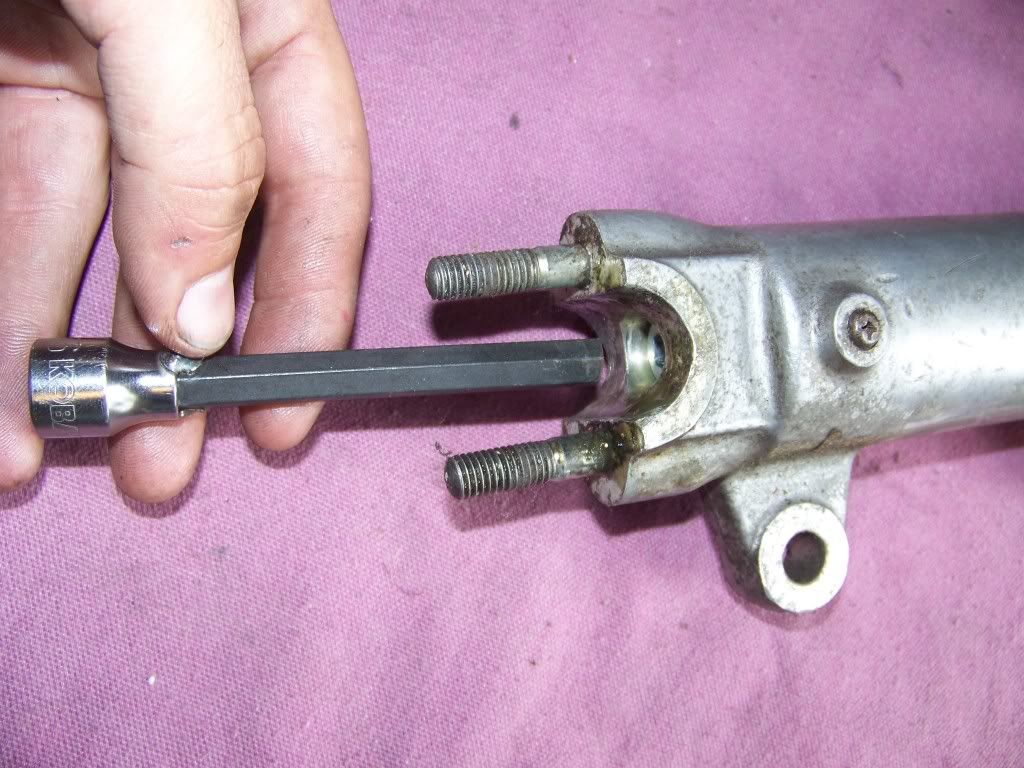 Try the Impact (if you have one)
If that bolt comes out completely at this point, you just saved some work and time. IF the bolt comes out completely, go ahead and pull the lower leg apart from the upper. If not, don't sweat, at least its loose now
Move on to the upper fork cap. Remove it with a 22MM Socket, Wrench, Crescent Wrench, Hammer, etc...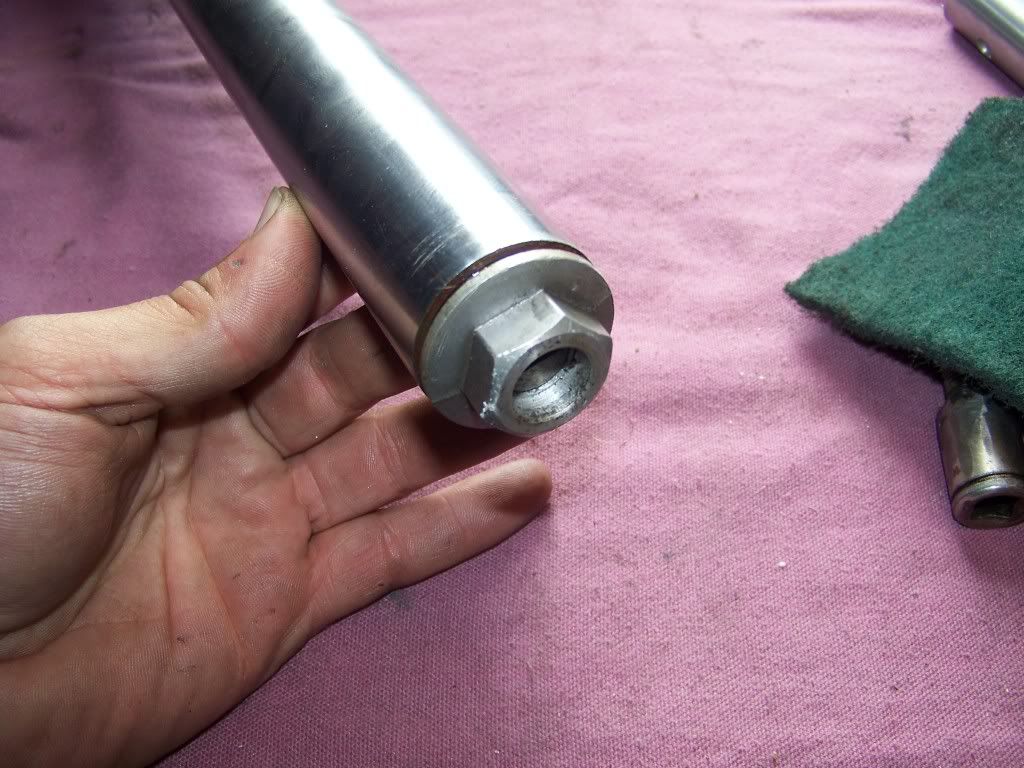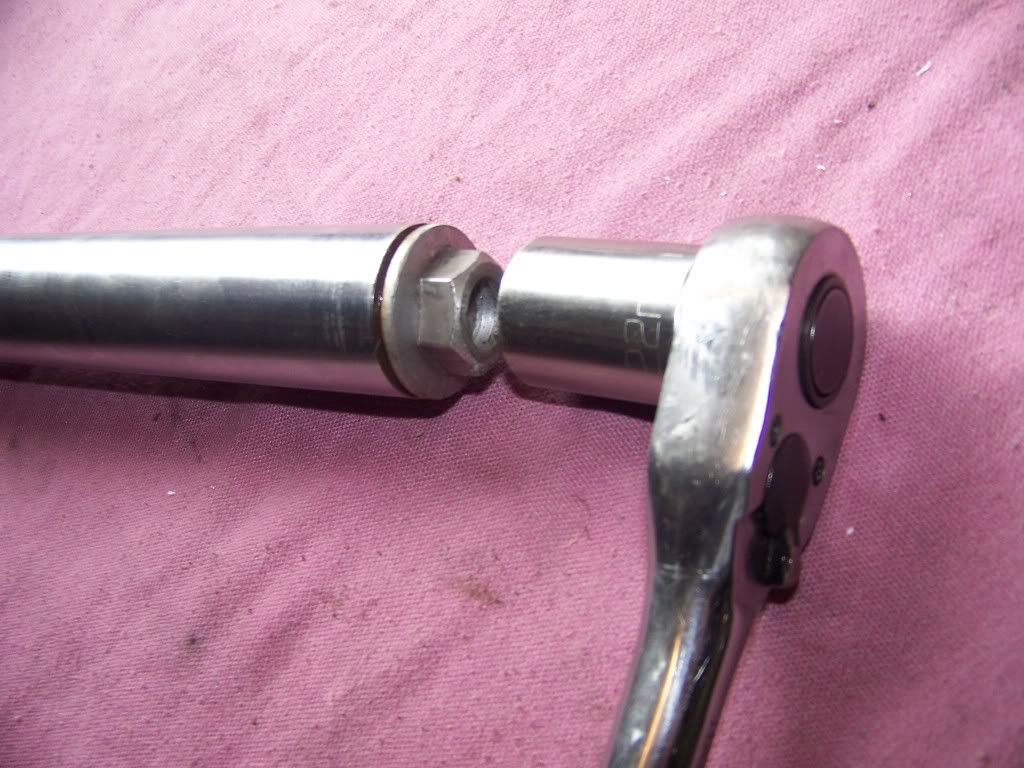 Once it it out, you'll need to remove the small disk that goes over the spring. Should look like this: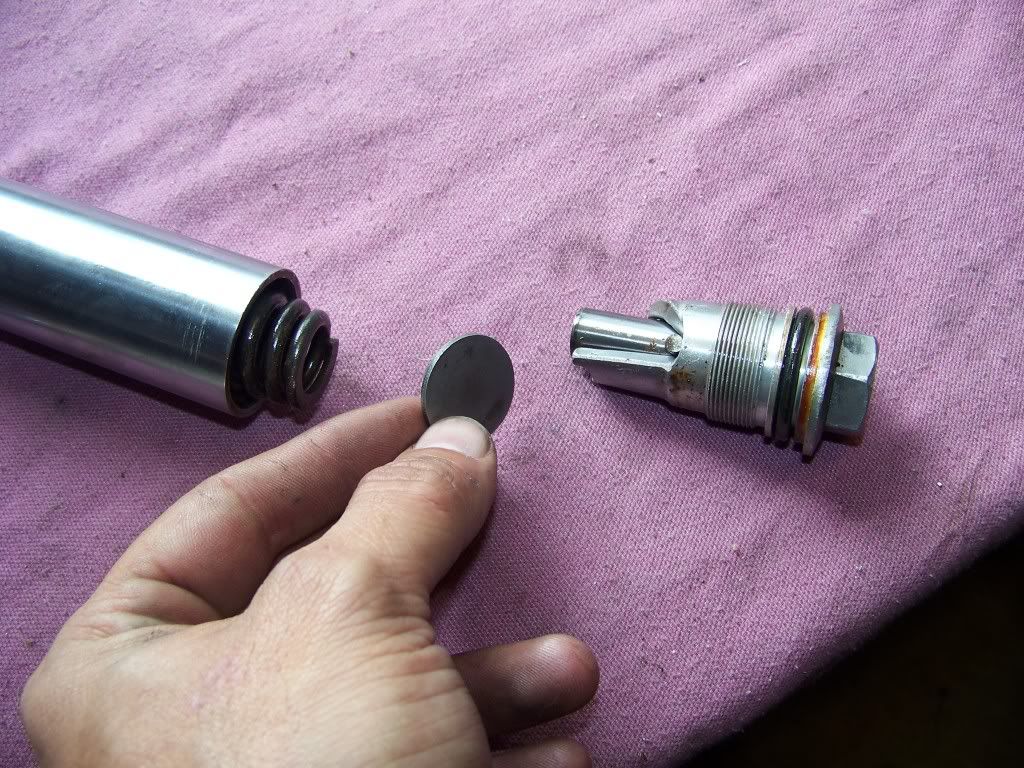 TAGS: XS650 XS 650 XS1 35MM Forks Lowered Lower Lowering Slammed Low Rider Chopper Bobber Cafe Racer Hugh Owings Hugh's HandBuilt Hughshandbuilt@gmail.com RE-Phased 277