I guess its about time for me to post this.
About 2 years ago I was able to get out from under my Jeep project that I had sunk way too much money into and buy, what for me was my dream bike, a Ducati 1198. Spent almost every weekend on it during the summer, however less than a year after I bought it, I finally received orders for something I had wanted to do for some time. Ended up having to move so the wife had to quit her job and I wanted her to enjoy some time off while I was at school so I made the decision to sell the bike before we left. 9 months later I finished school and didn't have any projects to work on, no bike to ride on the weekends, and really nothing to do so I decided I wanted another bike. The wife really hated riding on the Duc and I really didn't need to be riding a sport bike on the street anymore. Took a few test drives down at the local Harley dealership and she loved the Sportsters and really so did I. I however did not want to spend 10k on a bike that everyone else had only to have to spend more money to make it mine. I stumbled upon a xs650 and ended up falling in love with them. Spent a few months on CL looking for good candidate for a build and this is where I started.
Anyways, enough with my story as Im sure most of you aren't going to read it anyways.
Drove up to VA and picked this up for $500. No title, wasn't sure if it ran, but it kicked over and it was complete. Hooked it up to my truck battery and spent a good hour trying to kick it over damn near breaking my leg in the process. Tried again the next morning and the thing started for a few seconds, but that was all that I needed.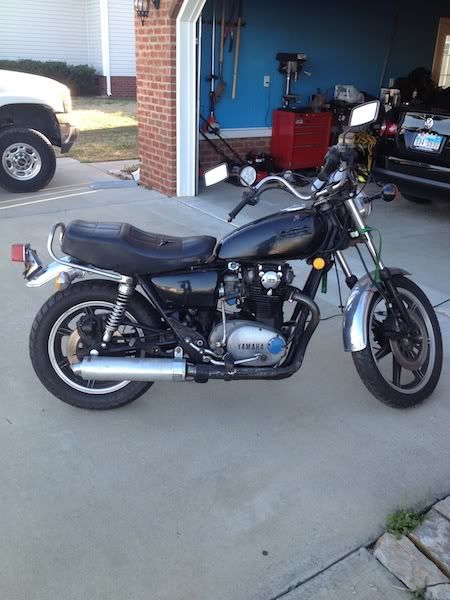 By the end of the night, this is what it looked like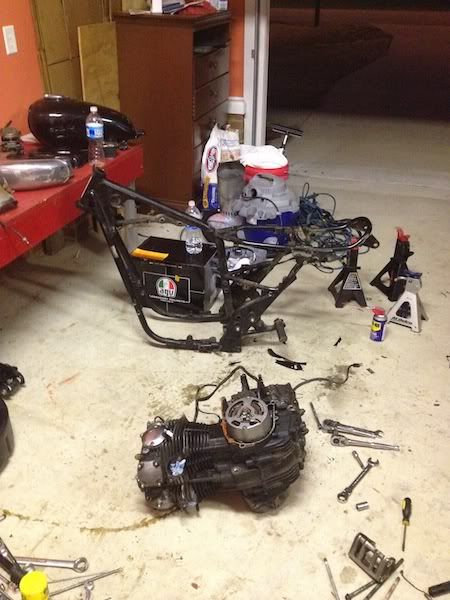 I had already done tons of research so I knew that I wanted to go with an Ardtail, so the order was placed and the rear of the frame was cut off. In the meantime I needed to buy a welder and after building a Jeep with a 110v, I knew I would not be making that mistake again. Ordered up a Hobart 180 and since it had been some time since I had done any welding I built this cart to practice with.
While waiting for my tail to come in, I tore the whole bike down and started figuring out what needed to be replaced and what sizes all the bolts were so I could replace them with SS allen. I also started soda blasting everything starting out with the simple vacuum feed $8 method which I quickly found clogged up way to easily and was wasting a ton of soda. Took a look at HF and ended up picking up one of their soda blasters after reading some reviews. Also picked up an old mic off of Ebay since I didn't want the same ol taillight that everyone else had.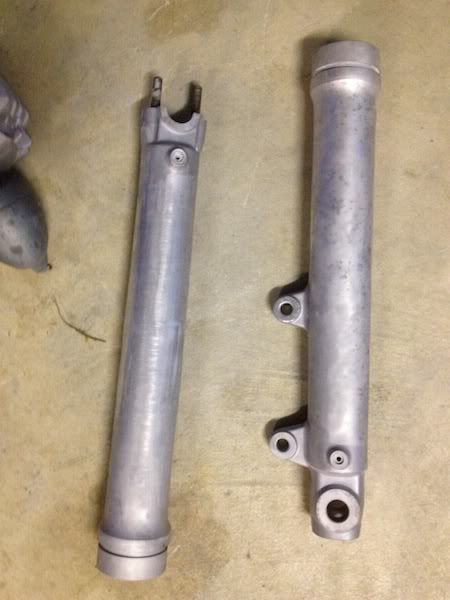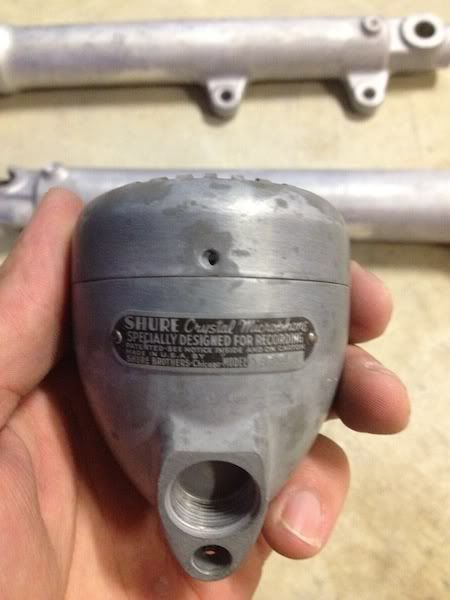 I also picked up a engine stand and made a bracket to hold the 650 engine. I didn't fully think how I was going to start the engine w/o a starter on the stand until after I had built the bracket so it made for an amusing scene when it did happen. I first started by climbing up onto my truck and jumping down to try and start it. Then I used a ladder and was hanging from the garage door. The wife thought it was really hilarious.
After about 5 weeks, I finally received my hard tail and I was pretty impressed. It came with a full picture set of instructions, new rear bracket with hardware, and even included a carbide bit to notch the frame. I was however a little disappointed as well. It looked as if the die for the bender had not been cleaned before bending and as such there were multiple lines down the length of the bends, some pretty deep. I also wish that they could have included metric hardware instead of std since this is going onto a metric bike. The adjusters on the bike are also std, so I ended up taking those off and replaced with metric.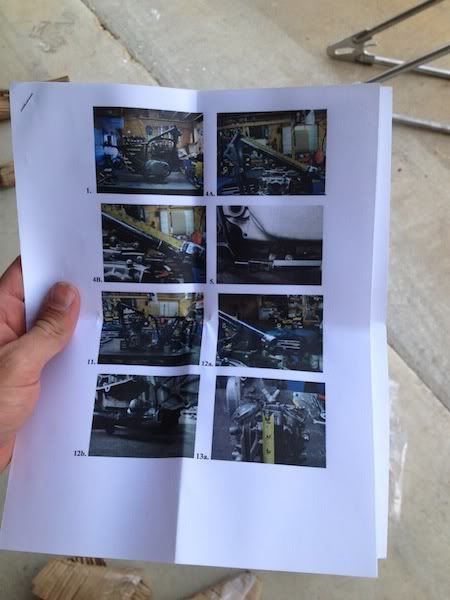 I ended up having to use a strap and hammer to get the tail to fit as the lower rails weren't as wide as the tail. Everything ended up lining up just fine and was straight, but I wasn't sure if it was a problem with the tail or not.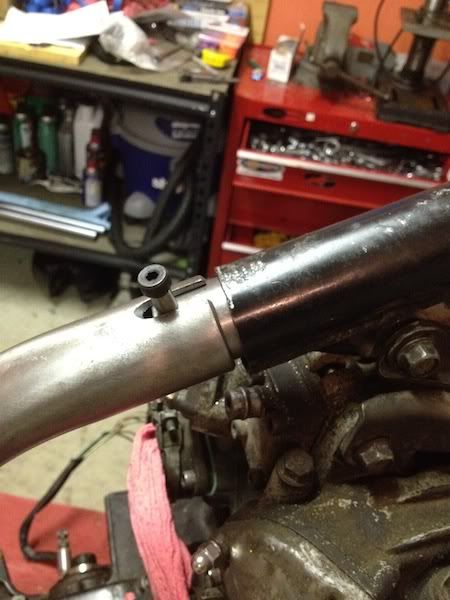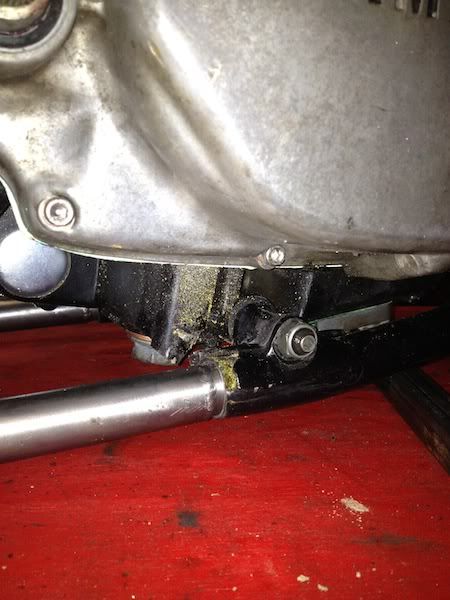 Order was also placed for my fender though 7metal and to have a custom seat made through Jim(Pov76 on the forum). I started tearing apart my carbs and stripped the butterfly screws. I tried to drill them out and screwed that up royally so a call to Rick at oldschoolcarbs was made. He did a great job, was on time, and the carbs came out beautifully. I forgot to take a picture of the carbs, but he is well worth the time and money. The seat took a little longer than expected, but it came out great and I think it looks great as well.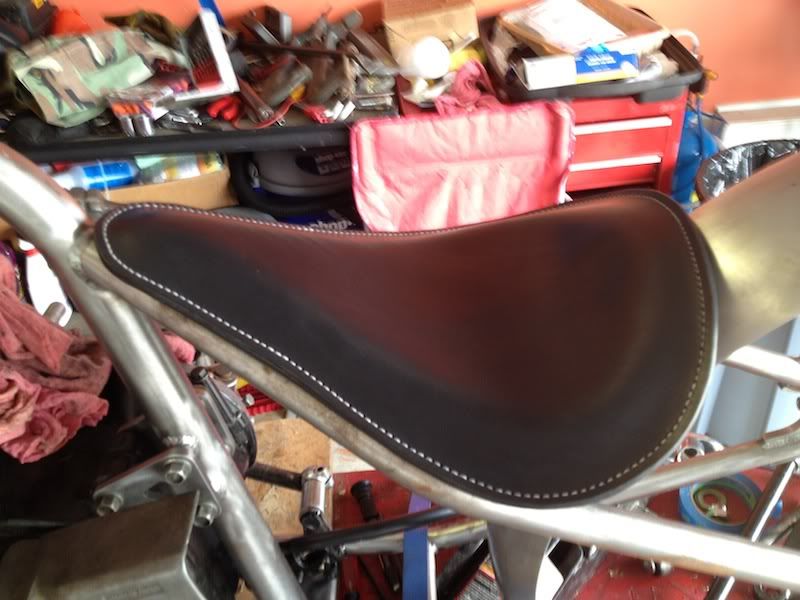 Since I knew I was going to be using a Sportster tank, I wanted to try and do small subtle differences with other parts of the bike. One of those was the tail light and the others were the seat mounting and kickstarter.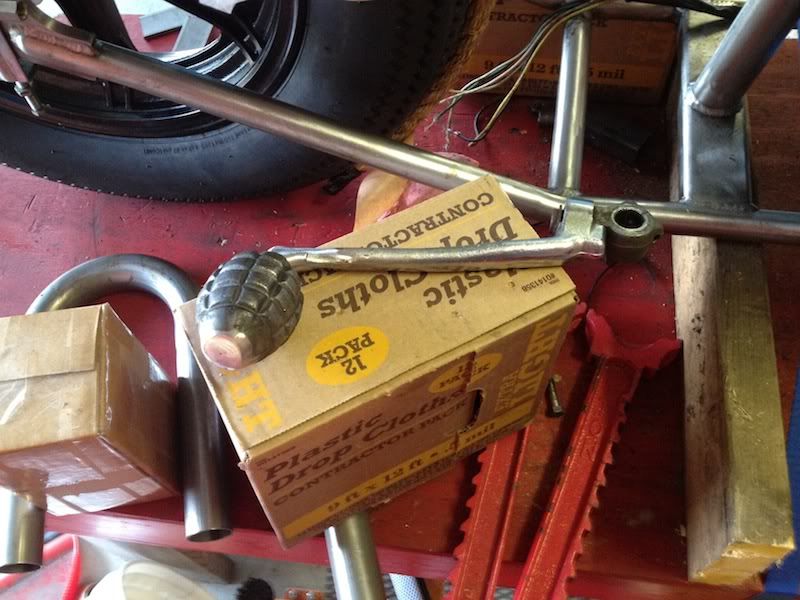 I tried using the leaf spring like this first, but I wasn't getting any movement and couldn't figure it out. I disconnected the front mount on advice from my dad and got the movement, and found out that the spring was binding which was causing it not to move.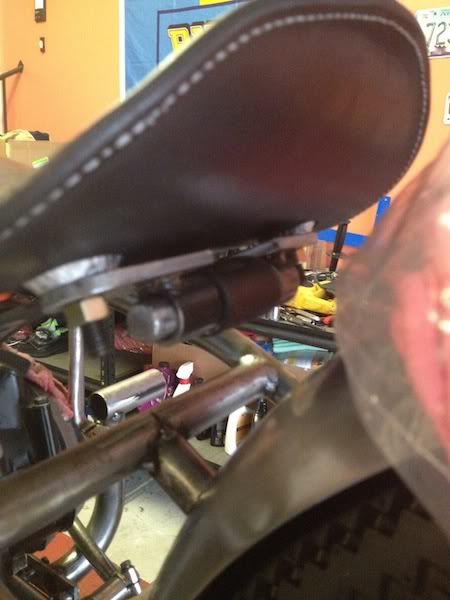 I really wanted the spring mounted like above to take up some of the empty space in the frame, but I couldn't figure out a good way to secure the front of the seat and allow it to slide so that the spring wouldn't bind. I tried making a little shackle for the front mount, but it looked like ass so I scrapped the whole thing. Ended up flipping the spring and it works great now. I ended up making a sliding mount for the front that slips over the spring and secures it.
Also finally received my fender but it took
10 weeks
to get it. I love the fender, but I am not sure if I would do it again as it held up my project quite a bit. About this time, an engine that I had been eyeing a few months before came up for sale again and this time I had the money so I jumped on it. Drove a few hours and ended up with this.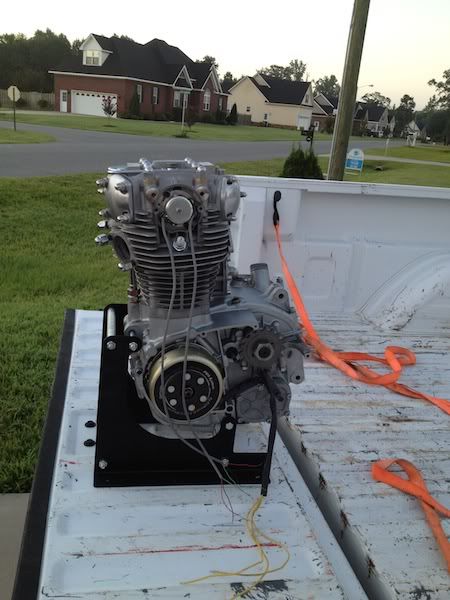 I was planning on waiting for a while to tear down the engine, but I found out I am leaving for the shitbox early next year so plans ended up changing. I also had to put my build into high gear as I had to make a hard deadline to finish it. I had been planning on taking the bike down to FL to ride with my Dad and Grandfather sometime in October, but that got moved up to next week. I also went ahead and ordered some pipes from Dan as I just didn't have the time anymore to build a custom set of pipes. Up until this point, everything was tacked in and none of the seals had been replaced. I was also using a set of mock up bearings. Final welded everything and finished rebuilding the calipers and forks. I also started on wiring, but ended up having to rip it all out as I screwed it up somewhere.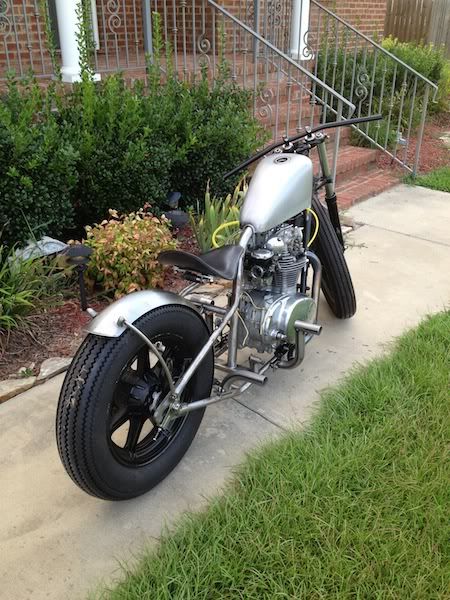 I still have some work that I need to finish before we leave on Sat, but you get the general idea for the bike. I left everything plain and unfinished since this is my first bike and I wanted to be able to change stuff later without having to f up the finish. Still haven't been able to ride it yet, but I am hoping the bike rips with the engine thats in it.