Staff Member
Top Contributor
XS650.com Supporter
Messages

4,503
Reaction score

1,410
Points

163
Location
So I know I could probably make one, but I'm thinking about buying a motorcycle wheel truing stand and static balancer. If I made one, it would probably work ok but look like shit and take a while to build. Plus I'd still have to buy the cones and bearings and metal.
There was a K&L MC310 on ebay that was going for cheap, but it got bid up to a fair price at the end. It's a 3-in-1 and retails for like $550. It ended up selling for $330 and that's more than I wanted to pay.
So I'm thinking about getting one like this instead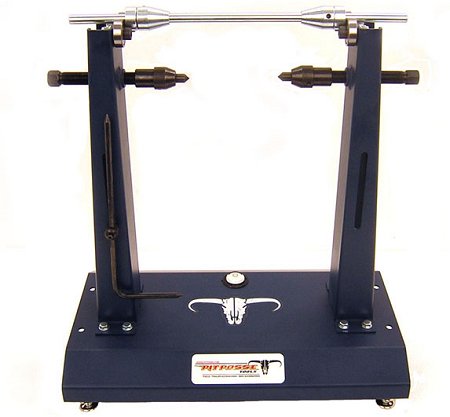 They run about $150 new. If I used a dial indicator and use a highly adjustable arm, I could still use it for to check forks and cranks. Would probably have to make a new base with more adjustments, or just drill new holes if I need if for that.
One problem I'm going to have is all these stands are built for truing 21" wheels at the largest. I need to lace up, true, and balance those 23's I was talking about in another thread. So I think I'm go to have to make some extensions for the arms to raise them up a little bit..
I'm also probably going to buy a spoke torque wrench like this: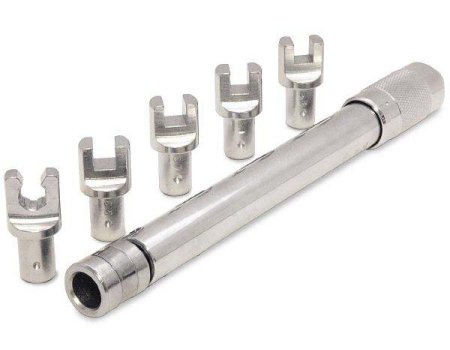 They are about $125. Some of you guys will probably say you don't need the torque wrench but I haven't been building wheels for years and don't have the ear for the "ping" of a properly torqued spoke. Plus I like new tools.
I was going to send the rims and hubs out and have someone else do it all, but it's going to be about $100 per wheel for the spokes, then another $100 per wheel for lacing and truing. You also have to figure in probably 80-100 for shipping both ways. So buying the stand and torque wrench will cost about as much as I'll save, but then I'll have the tools forever and a wheel balancer to boot.
I'll also learn quite a bit and get the satisfaction of doing it myself. Years ago I trued a lot of bicycle wheels so I understand the technique. Most of the rims were bent too making the process a lot more difficult. I think having new spokes and nipples and the proper tools, along with new un-bent rims, should make the process pretty straight forward. That is, if I can figure out how to lace them up. There are plenty of online tips for that though and I'm sure I can figure it out.