Messages

428
Reaction score

697
Points

93
Location
This 1975 XS650 is gonna be a ... Brat? Tracker? What?
Somehow, I have become a magnet for derelict motorcycles amongst my friend group. This isn't the worst problem to have, but there are several confounding factors:
1)
Space
- I live in San Francisco, which is a small town disguised as a big city. Garages are at a premium here, and mine unfortunately houses my car/baby hauler/dad wagon. Thankfully I have a good friend who lets me keep my tools + parts + this bike at his house so I can work on it when I can escape from...
2)
My child!
My wife and I had our first kiddo almost 5 months ago, and she's a handful. Super cute obviously, but logistics being what they are, I don't get as much wrench time as I'd like. When I'm not hanging out with her, or cleaning up her poop/pee/barf, or whatever else, I am at my...
3)
JOB.
Like it or not, we all need these. Mine affords me a really flexible schedule, which is nice, but even though I live only ~4 miles away, it still takes a minimum of 30 minutes to get there regardless of vehicular method. Car, motorcycle, bicycle, bus - all a 30 minute minimum. Whatever.
So - this bike came to me when another friend of mine gave up on it. He was on the hunt for a bike, and found a builder on the East Coast who he commissioned to build him a CB360. Midway through the process, he found out about the venerable XS650, and asked the guy if he could switch it up and have him build one of those instead. After that was agreed upon, money was exchanged, and almost 2 years went by, this bike showed up.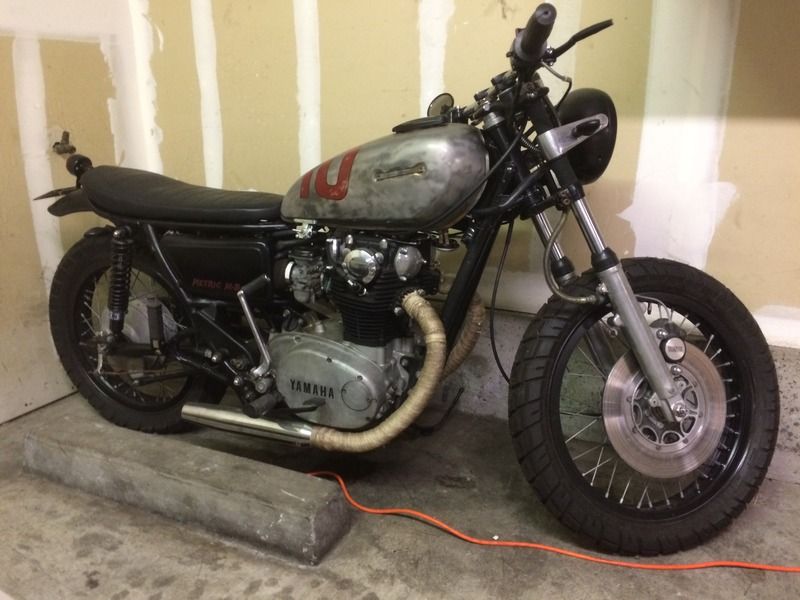 It looks OK at first blush, but it was rife with problems from the get go.
Battery wasn't charging, so it would die after ~3 minutes of riding
Carburetors were off - they showed up dirty, improperly jetted, and the float heights were all wrong, so gas was leaking out of the bowls constantly
Petcocks were leaking
Turn signals were broken, presumably from shipping
Rear brake lever hits the exhaust, preventing full engagement
A couple of us at various times tried to get it running better, with very little luck. So my friend who spent LOTS of money to get this bike built, and then shipped to SF from about as far East as you can get in the US, gave up. So, he called me and said to come pick it up, that I could have it. HAVE it? Yes. Of course, he has first right of refusal if I ever sell it, but this is one I hope to hold on to.
I did some research and discovered the charging system problems with these bikes, so I ordered a HHB PMA kit, installed it, and BINGO - no more charging issues! Rock solid 13V+ from idle! No pics, because no pics.
Then, I set out plotting what else I wanted to do, and that list of crap I ordered has just gotten longer and longer...
2006 GSX-R 750 fork + triples + brakes/MC + clutch lever (installed)
Cognito moto upper triple + bar risers
Aftermarket 320mm rotors
Simplified wiring harness
Motogadget M-unit + M-button
Motone 2-button microswitches x2
Fox23 battery mount (see his build thread for some next level aesthetic inspiration)
Pamco high-output ignition kit
Things I still need/want to get or make...
Motogadget Pin turn signals - haven't completely made up my mind on these
Pandemonium Ya Mama exhaust
Small black bates-style low mount H4 headlight + mount
Electronics tray between frame rails
5mm radial caliper spacers - GSX-R fork uses 310mm rotors stock
330mm Hagon slimline rear shocks - came with 310mm, which are a bit too short for my taste
Simple throttle tube + pull cable
Grips
Braided brake hoses - going to do 2 into 1 style and ditch the junction box or crossover hose
There are probably a million things I am forgetting, but that's what I think I'm up against as of now.
This Saturday, I managed to clear out some time and meant to install the Pamco I've been sitting on for close to a year now. When I tore into the harness, I realized I would be doubling up on certain aspects of the work I'm gonna do by not just tearing it down to begin with. So, I tore out all the electrical on the bike, and decided to do the fork swap instead so I could (a) sell all the old fork/brake stuff, and (b) still have a roller that was easy-ish to move around.
I quickly discovered that despite my extensive research led me astray, and the GSX-R steerer stem was actually about 1/4" too short, so like others before me, I cut off a proportionate amount of the steerer neck on the frame after extensive measuring. It fits fine now, but all the flap wheel cleanup resulted in a tiny speck of metal in my cornea. It was annoying as crap, but I thought maybe it would just flush itself out overnight as has happened in similar episodes previously. NO such luck - I woke up Sunday morning to a burning watery eyeball, and a very evident speck that had begun rusting. I couldn't even SEE it on close examination Saturday evening, but the rust made it quite apparent! Went to ER, and 4 hours later it was out. They dilated my eye, and this is how I looked for most of yesterday: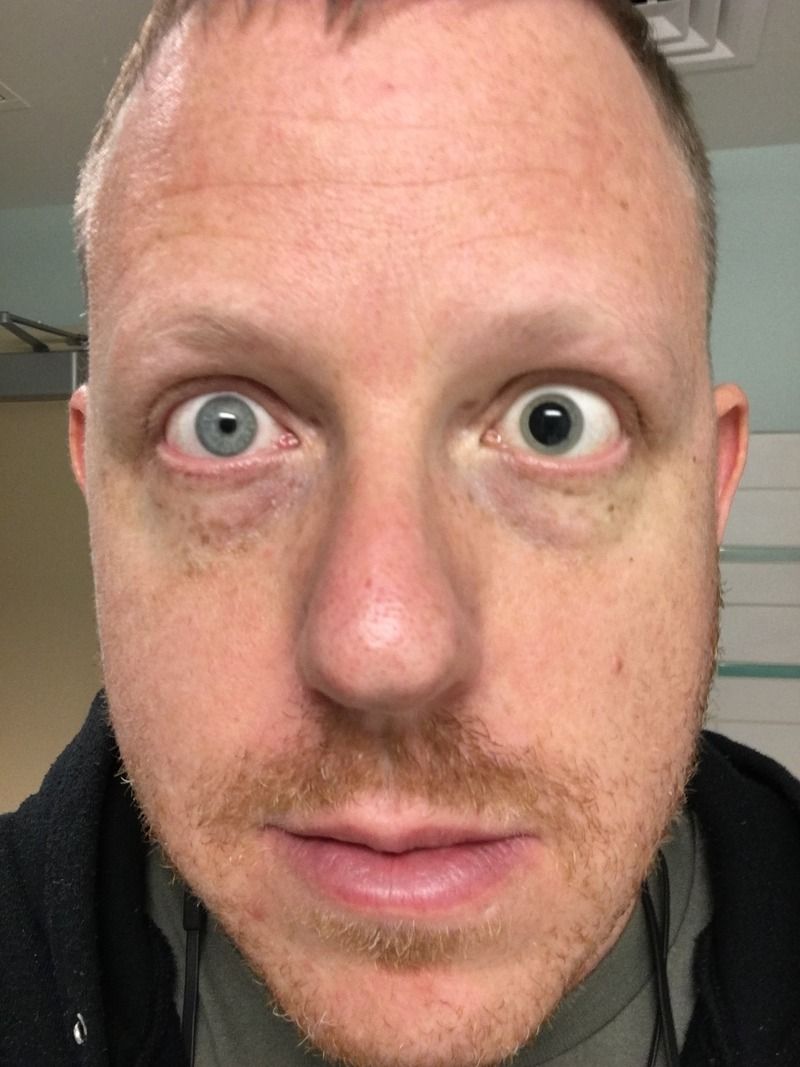 Despite my strange appearance post-speck removal, the end result on the bike is really satisfying. Now I'm just waiting for the top triple/bar clamp/fancy nut setup I ordered from Cognito, and it'll be much easier to move around. Gotta figure out some steering stops, but that should be fairly straightforward.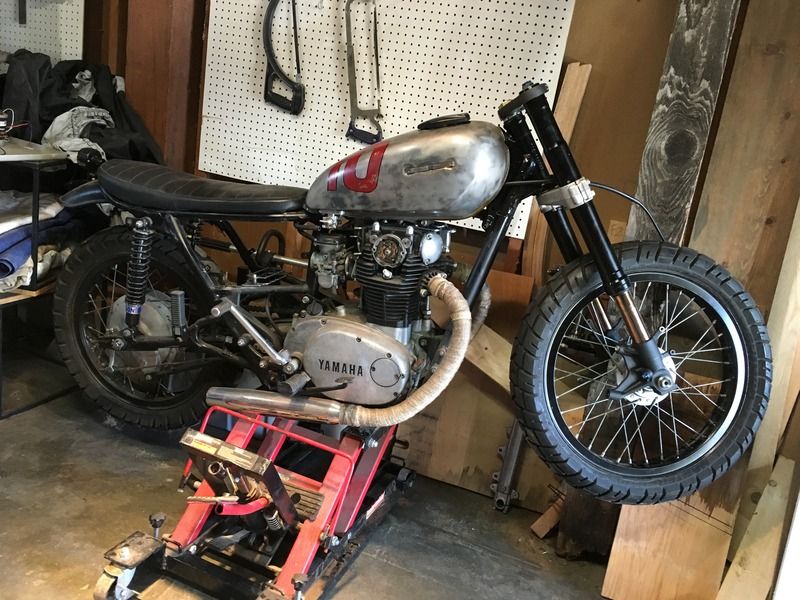 That's all for now. I'm super open to feedback and ideas, so bring it on!
Last edited: